Gulfstream G450 – Business Aircraft VIP Refurbishment
An aircraft refurbishment can make all the difference.
The Gulfstream G450 is specifically designed for travelling long distances in reliable comfort and safety.
This impressive global business jet provides occupants with plenty of room. With a cabin extending over 40 ft long, it comfortably fits 14 passengers and allows them to fly in a vast cabin with a full-service galley and ample baggage capacity.
The Gulfstream G450 is known for its classy and luxurious look and feel within the exterior and interior of the aircraft. However, no one has thought to refurbish an interior like ours.
Our customer was looking to refurbish the exterior and interior of their Gulfstream G450. Their vision was to have a clean, minimal and luxurious aircraft. We were excited to dive in and work collaboratively and closely with our customer.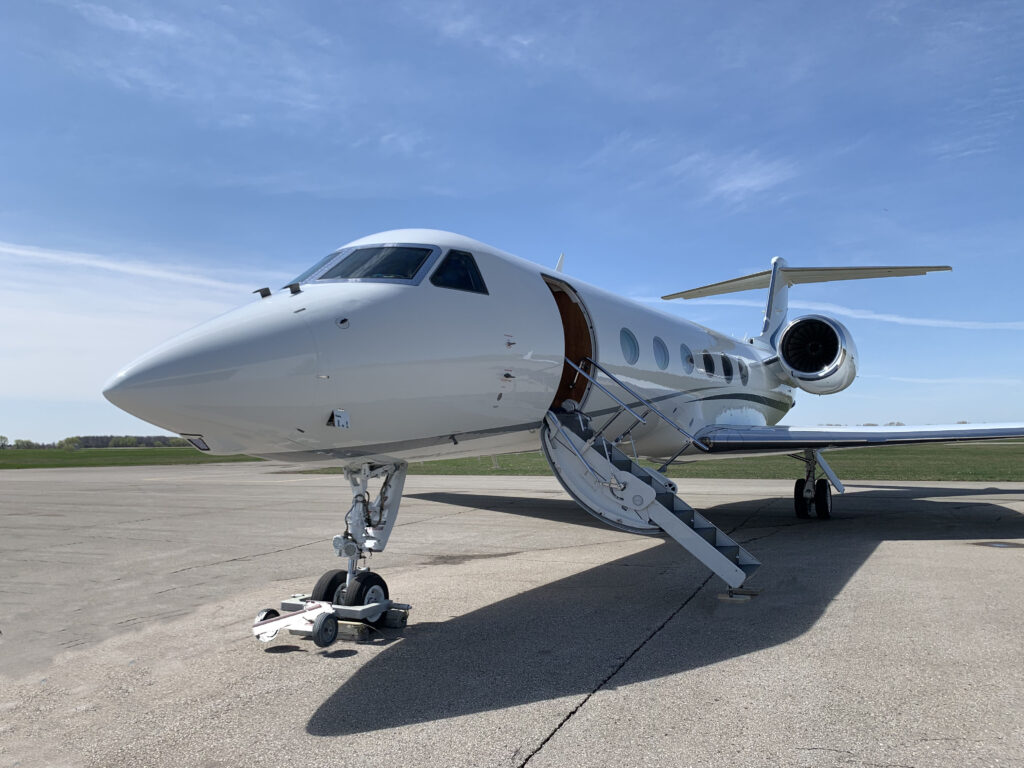 Work Scope
Exterior
The exterior of the Gulfstream G450 was completely stripped, cleaned, metal prepped, primed, prepped for base, clear coated, added a base coat and lines on the aircraft.
Interior
The interior of the Gulfstream G450 was carefully disassembled. We then refurbished the carpet, windowlines, panelling, seats and divan. We worked closely with the customer where they customized their carpet (custom colours and design) and selected the white leather for the seats with the blue piping detail the nicely complimented the leather with a Conway Silver fabric on the divan.
Additionally, the crew seats were refreshed and refurbished with sheepskin, adding the finishing touch to the interior of the aircraft.
 Make a Statement in the Skies