Gulfstream G100 – Business Aircraft VIP Refurbishment
Thank you for allowing New United Goderich Inc. the opportunity to give your aircraft a new look.
This Gulfstream G100 project was an exciting project for our customer. Our Sales, Interior and Paint Teams took pride in refurbishing this aircraft inside and out. Long hours and hard work paid off especially when the look of happiness showed on our customer's face the day of completion. The aircraft was completed beyond their expectations.
Exterior
The Sales Team worked with the customer to customize the paint scheme on this aircraft. The customer had complete involvement during the process making sure that the scheme was precise and when it came time to paint the stripes, the location of the stripes was exact.
Interior
Our customer worked alongside our Sales and Interior Teams to make sure that this aircraft interior was done to perfection with the exact colors/material.
All of the pre-existing laminates in the aircraft were polished. The seats in the cockpit were all refurbished with new leather and sheepskins. The cabin seats were all refurbished with new Leather. The Sidewalls and Headliner were are refurbished with Ultraleather and Fabric. The side tables were all refurbished with new leather inserts and polished to a gloss finish. New carpet was installed throughout the aircraft. In the lavatory; the potty was all refurbished with new leather. The seatbelts throughout the aircraft were all re-webbed.
The Finished Product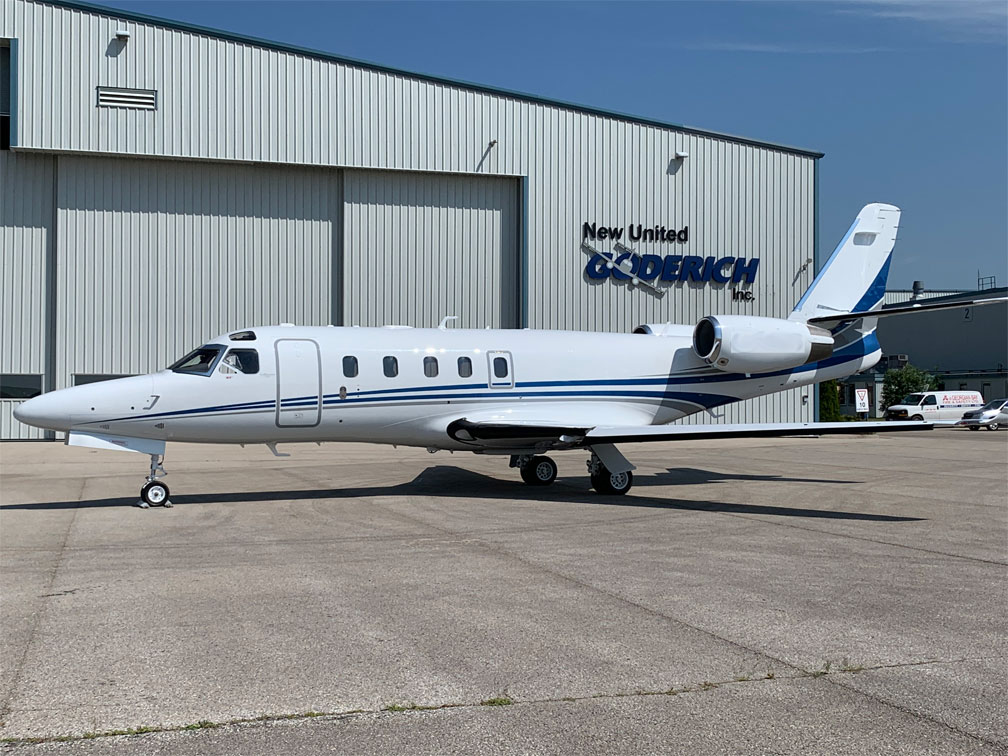 Make a Statement in the Skies