Embraer ERJ 135LR – Business Class Commuter Interior
This particular project has become quite popular in recent years.
The Embraer ERJ family has made a name for itself as a versatile regional airliner. They have been in service worldwide since 1997 with over 1,200 aircraft delivered. The ERJ 135LR is a long range version of the original, with upgraded engines and increased fuel capacity, it carries its 37 passengers up to 1,700nm between cities.
This aircraft platform is an ideal business commuter. It has the range and capacity to take a large number of company passengers in comfort to their desired destination. However, no one has thought to create an interior like ours.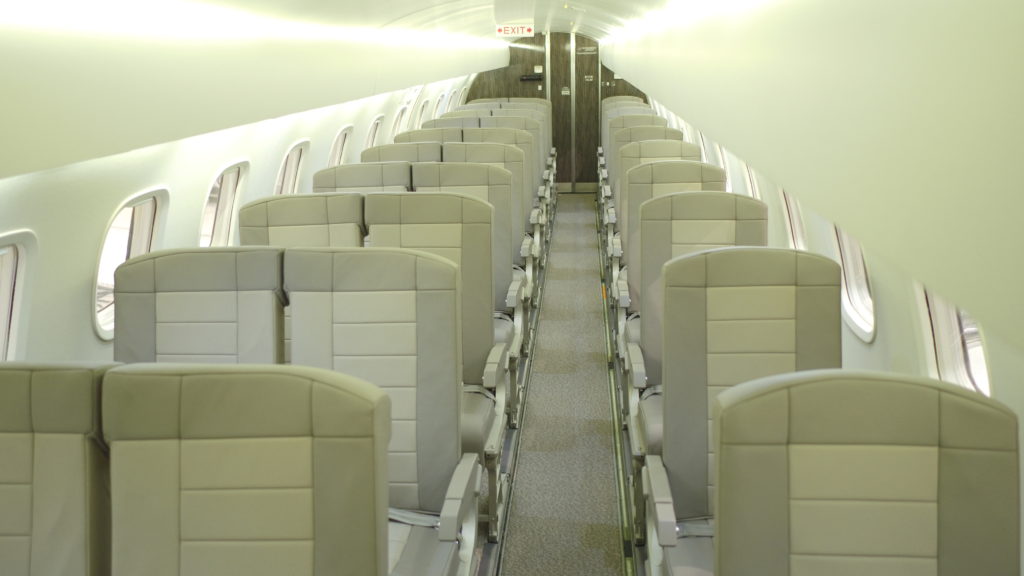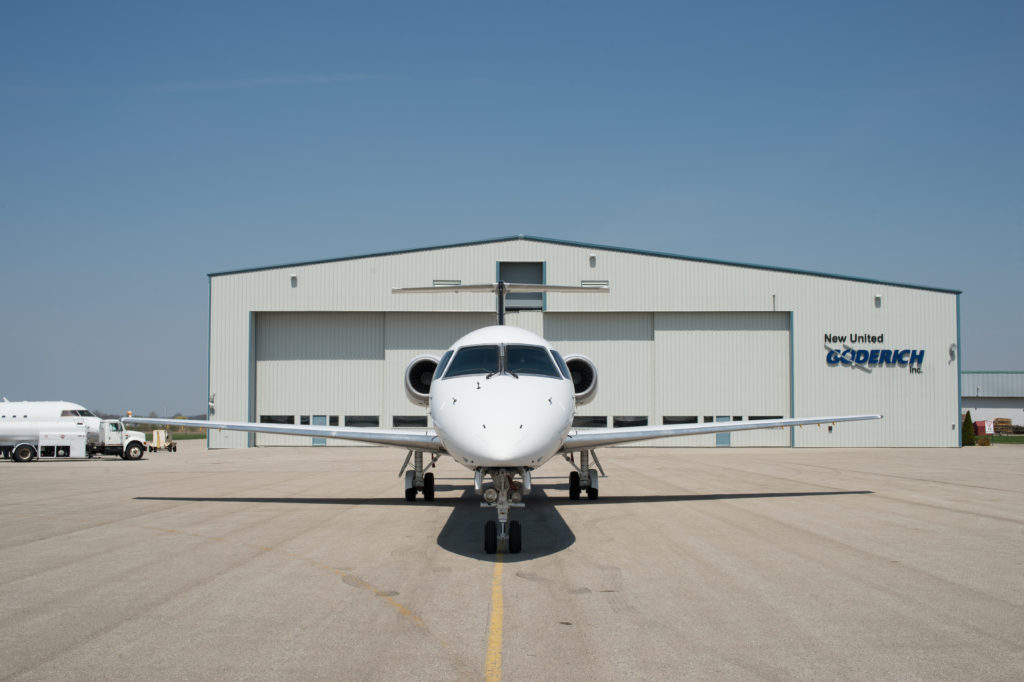 The Concept
Discussions with our client about their operational needs, interior requirements and their visual design concepts were quite interesting.  They requested an interior that was higher class than what the airlines could provide for the types of the missions planned. Our client wanted more legroom and space inside the cabin by reducing the number of seat rows. They also wanted outlets  at each seat to support passenger's personal electronic devices and the option for in-flight Wi-Fi.
Following the completion of maintenance and avionics work, our Cabin Interior Specialists began installing the new business class commuter interior including:
New Fuselage walls were insulated with Nomex soundproofing to reduce engine/exterior noise.
Seats refurbished with a high-quality leather. Rows are placed in a 30 passenger configuration with a 36 inch pitch.
Modified panels, bulkheads, lavatory, galley, coat rack, entry flooring and cabin carpet.
The aircraft was then sent to our paint department to apply the client's custom paint scheme.
Passenger seats had new foam installed and wrapped with Apollo Seagull coloured leather.
All cabin panels had a thin layer of Skandia foam installed and are wrapped in a fire retardant "Icicle" coloured Ultraleather (Providing a soft feel).
Airline overhead bins are removed to provide additional headroom in the cabin.
All individual seat meal trays and aircraft bulkheads are hydrographically finished in a grey wood grain  pattern.
Lavatory sink is hydrographically finished in a marble finish pattern.
115V  electrical outlets are installed at each seat for personal electronic device charging.
Lavatory completely refurbished with new plating and monuments.
Forward galley reconfigured, containing two hot jugs and two meal carts.
Forward cabinet is converted to a passenger coat rack area.
Laminate flooring is installed in the galley and lavatory areas (Dakota colour pattern).
A Heritage Tweeds design carpet is installed throughout the cabin.
Our avionics department installed a Gogo Business Aviation on-board Wi-Fi system and New United Goderich's ADS-B (OUT) STC solution for the Embraer ERJ 135LR.
 Make a Statement in the Skies